About Us
Our mission is to make spay and neuter affordable and accessible to everyone.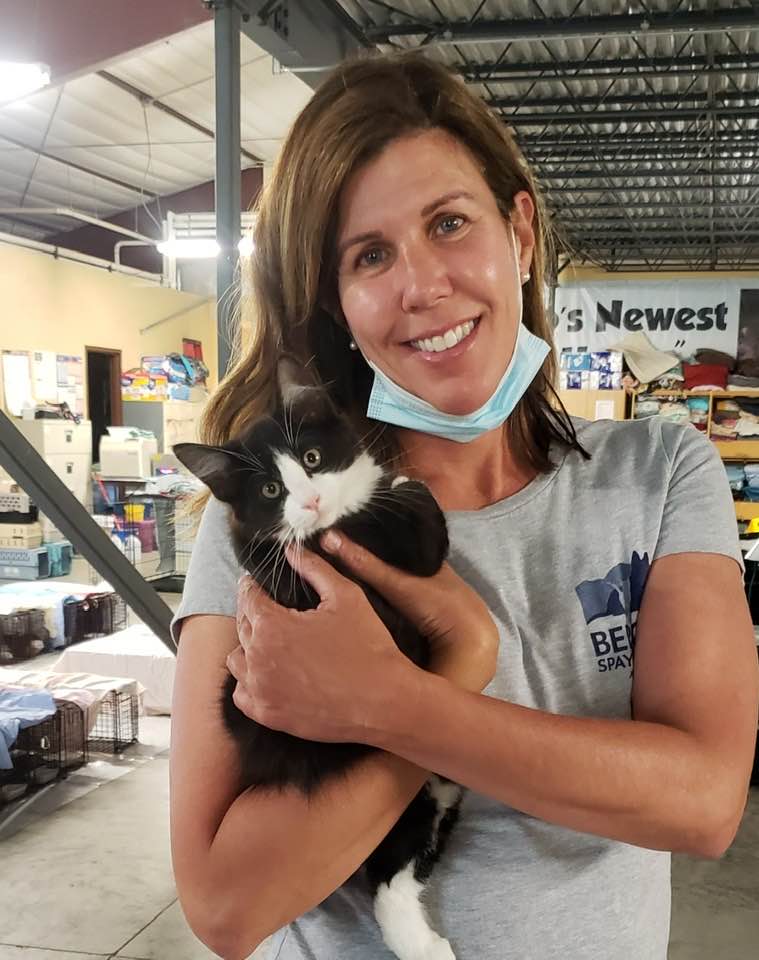 EXECUTIVE DIRECTOR
Kristin Des Marais
Kristin Des Marais brings over 20 years of professional experience in animal welfare with a focus on promoting spaying and neutering of animals. Through her fundraising efforts and other social activities, Kristin wants to raise awareness about the vital importance of spaying/neutering and provide resources to some of our most underserved communities. In her spare time, she loves to spend time with her husband Kevin and their dogs, Gigi, Boo and Teton, and 2 cats, Gabe and Simon.
BOARD PRESIDENT
Felicia Diamond
Felicia is a lover of animals. She has lived with Newfoundlands, mutts, Shih Tzu, cats, birds, chickens, turkeys, horses and ducks. Felicia holds a Master of Arts Degree from the University of Colorado at Boulder in Evaluation Research. She spent ten years as a lobbyist for a variety of groups including a consortium that created the first legislation that enabled private animal protection organizations to investigate cruelty to animals. She founded the Diana Price Fish Cancer Foundation. She was the interim Executive Director of the Denver Chamber Orchestra, Executive Director of the Senior Citizen Law Center, Development and Marketing Director of the Robert Loup Jewish Community Center, Executive Director of the Howard Dental Center for HIV/AIDS. In 2009 she retired and began consulting for nonprofit organizations. In 2016, Felicia retired and joined the Board of Directors of The Urban Farm at Stapleton and Domino Service Dogs.
BOARD SECRETARY
Sloane Hawes, MSW
Sloane M. Hawes, MSW, is a Research Associate at the Institute for Human-Animal Interaction at the University of Denver Graduate School of Social Work. She manages IHAC's research agenda on the human community factors that inform companion animal welfare, with a particular interest in how animal welfare challenges intersect with human social justice issues. She received her MSW with a concentration in Sustainable Development and Global Practice from the University of Denver's Graduate School of Social Work, with a certificate in Animal-Assisted Social Work. She also holds a certificate in Animal Shelter Management from the University of the Pacific. She received her Bachelor's degree in Ethnic Studies and Psychology from the University of San Diego. She currently lives in Milliken, CO with her partner, Derek, her daughter, Laney, and her English Mastiff, Benji.
BOARD MEMBER / VETERINARY team
Dr. Lena Roeder
Lena M Roeder, DVM is a 1991 graduate of Colorado State University School of Veterinary Medicine. Shortly after graduation, she and her young family moved to Colorado Springs. After working at a practice for 2 years, she bought a small satellite clinic from her then boss and grew it into a large 6 doctor practice. The small animal practice saw dogs and cats and a wide variety of exotic pets including birds, reptiles and small furry creatures. Veterinary Medicine always has been and remains her passion today. However, after 25 years of working in and managing a very busy practice and raising her son and daughter, she realized there were many other things she loved that had been put on a back burner. She and her husband bought a 20 acre property in Western Colorado and gradually transitioned out and sold their beloved Colorado Springs practice. After several years of enjoying a new life of farming, gardening, hiking and horseback riding, she realized that she still needed to use her veterinary skills and that they were very needed in her rural community. She now serves on several shelter boards and donates services to several spay/neuter programs.
BOARD MEMBER / Newsletter
Elaine Johnson-Craig
Before retiring in 2022, Elaine spent nearly 30 years owning and operating a small business in Grand Junction.  Prior to moving to Colorado, she was assistant director at the Small Business Development Center in Rock Springs, WY.  An Iowa native, she holds a bachelor's degree in journalism from the University of Missouri.  After college, she had a 20-year career in communications, first as a newspaper and magazine writer and editor, followed by a stint in corporate marketing and public relations.  Elaine has served on the boards of several nonprofits,  assisting with fundraising events, corporate sponsorships, major donor asks and stewardship, communications, and community collaborations. For the past 15 years, her passion has been animal rescue, welfare and advocacy.  She looks forward to helping Bergen with its vital efforts on the Western Slope.  Elaine and her husband Dan live on a small acreage outside Palisade with two rescued cats, Goldie and Hobbsey.  
PROGRAM DIRECTOR
Tonya Smith-Martin
Tonya started her animal welfare adventures about 7 years ago when she answered a call to help transport at risk dogs from rural CO shelters to rescue groups the Denver area, and she has been advocating for them ever since! In 2017 she started a non-profit organization to help further the needs of these voiceless animals and enjoys volunteering her time and services to help with many other aspects of their lives. Tonya and her husband help host a monthly pet food pantry, spay and neuter clinics, help with veterinary, vaccine and other services, as well as fostering dogs, educating the public, and coordinating resources for several organizations. Tonya and her husband, Jeff, live on a small farm in rural SE Colorado and she enjoys spending time with 11 fur-babies and all her other barnyard friends!
FINANCIAL OFFICER
John Backlund
John has had a career focusing on banking and investments. Most recently he has been a business financing consultant for entrepreneurial and small growing companies based in the Denver area. His career includes stints in state government, commercial banking, public finance, and investment companies. For the last ten years, he has been on the Board of Conservation Colorado, the state's largest environmental organization and is currently serving as Vice Chair. In the past, he has served on the Boards of the Denver Association of Business Economists as well as the Rockies Venture Club. John received an MBA and CPA designation while studying at Northwestern's Kellogg School. His undergraduate degree is in economics and political science from Southern Methodist University. His hobbies include current events, politics, golf, yoga, and biking.
VETERINARy TEAM
Dr. Erin McCarty Davezac
For over 20 years, Dr. Erin has worked or volunteered at numerous shelters and rescue organizations, including doing TNR, low cost spay/neuter and veterinary care, private practice, relief and emergency work, and foster care. After being a degreed and licensed RVT/CVT for several years, she decided to go to veterinary school and graduated LSU SVM in 2005. She also taught Clinical Pathology to veterinary technology students at Baton Rouge Community College for 4 years. She is licensed in both Colorado and New Mexico and is currently enrolled to become certified in veterinary acupuncture. She lives in Monument, Colorado with her extremely supportive husband, 2 wonderful sons, spoiled rescued dog, 3 foster failure cats, fish and foster animals. She has a passion for helping control pet overpopulation through affordable spay/neuter organizations and performing an average of 75-100+ surgeries every week.
VETERINARy TEAM
Dr. Ashley Metcalfe
As a Cañon City native, Ashley is thrilled to return home after spending the last four years in Fort Collins where she completed her Doctorate of Veterinary Medicine degree at Colorado State University. Prior to that, she received her Bachelor Science degree in Biology with minors in Chemistry and Supervisory Management from Colorado State University-Pueblo.
Dr. Metcalfe has a special interest in animal behavior and is currently the only Fear Free certified veterinarian in Cañon City. She lives with her supportive husband, Cody, and their three pups: Slim Shady (Standard Poodle), Grace (Boxer), and Archie (English Bulldog). Together, they enjoy hiking, playing games with family, enjoying craft beer, traveling, and enjoying new cultures.
VETERINARY TEAM
Lizz Gernard
Lizz has been a veterinarian technician for 30 plus years, while taking breaks to pursue other careers as a Wildland Firefighter, Professional Rock Climber, and a Librarian. Missing her previous job working with animals, she returned to her original calling as a vet technician. She resides in a remote mountain cabin that she personally rebuilt after the 2012 High Park Fire in Larimer County. Her love and passion of animals extends to her home life with several adopted horses, goats, chickens, dogs and cats. She is truly living her dream life.